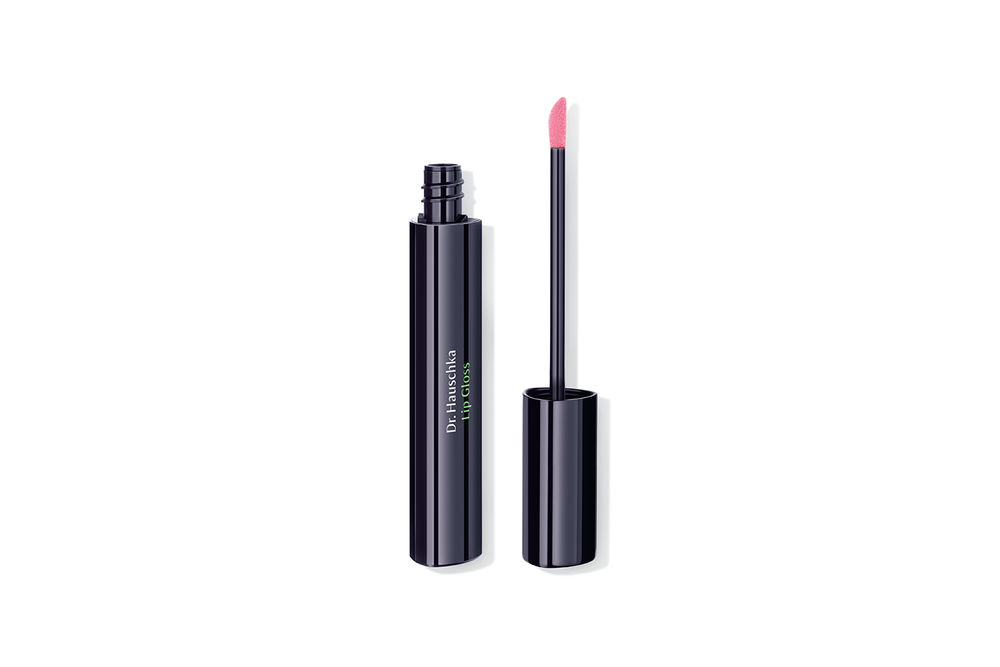 Lip Gloss 4.5ml
Luscious and alive: For a silky-soft feel and brilliant shine.
Description
Combines mineral pigments with nourishing botanical ingredients such as anthyllis, mango butter and sea buckthorn oil to soothe, protect and moisturise lips. Includes organic castor oil and now certified 'Fair for Life'.
Usage Dr. Hauschka Lip Gloss
Apply on its own or as a finishing touch to further intensify the effect of Lipstick.
Quality
Truly natural and/or organic cosmetics, certified to NATRUE standards

Free from synthetic fragrances, dyes and preservatives

Free from mineral oils, parabens, silicone, phthalates and PEGs

Dermatologically tested for sensitive skin

We do not test on animals

Wherever possible, all raw materials come from controlled organic or biodynamic (Demeter certified) cultivation, and are recovered under fair conditions
Ingredients
00 radiance
Ricinus Communis (Castor) Seed Oil, Lanolin, Hydrogenated Castor Oil, Anthyllis Vulneraria Extract, Prunus Armeniaca (Apricot) Kernel Oil, Cetyl Alcohol, Euphorbia Cerifera (Candelilla) Wax, Mangifera Indica (Mango) Seed Butter, Simmondsia Chinensis (Jojoba) Seed Oil, Prunus Amygdalus Dulcis (Sweet Almond) Oil, Fragrance (Parfum), Linalool, Benzyl Benzoate, Farnesol, Limonene, Geraniol, Eugenol, Benzyl Salicylate, Benzyl Alcohol, Citronellol, Beeswax (Cera Alba), Silica, Mica, Calcium Aluminum Borosilicate, Tin Oxide, Titanium Dioxide (CI 77891). *from natural essential oils
01 blush plum
Ricinus Communis (Castor) Seed Oil, Lanolin, Prunus Armeniaca (Apricot) Kernel Oil, Anthyllis Vulneraria Extract, Cetyl Alcohol, Hydrogenated Castor Oil, Mica, Euphorbia Cerifera (Candelilla) Wax, Mangifera Indica (Mango) Seed Butter, Fragrance (Parfum), Linalool, Benzyl Benzoate, Farnesol, Limonene, Geraniol, Eugenol, Benzyl Salicylate, Benzyl Alcohol, Citronellol, Beeswax (Cera Alba), Hippophae Rhamnoides Fruit Oil, Silica, Tin Oxide, Lecithin, Carmine (CI 75470), Titanium Dioxide (CI 77891). *from natural essential oils
02 raspberry
Ricinus Communis (Castor) Seed Oil, Lanolin, Prunus Armeniaca (Apricot) Kernel Oil, Anthyllis Vulneraria Extract, Cetyl Alcohol, Hydrogenated Castor Oil, Euphorbia Cerifera (Candelilla) Wax, Mangifera Indica (Mango) Seed Butter, Fragrance (Parfum), Linalool, Benzyl Benzoate, Farnesol, Limonene, Geraniol, Eugenol, Benzyl Salicylate, Benzyl Alcohol, Citronellol, Beeswax (Cera Alba), Hippophae Rhamnoides Fruit Oil, Mica, Silica, Lecithin, Carmine (CI 75470), Titanium Dioxide (CI 77891). *from natural essential oils
03 blackberry
Ricinus Communis (Castor) Seed Oil, Lanolin, Hydrogenated Castor Oil, Prunus Armeniaca (Apricot) Kernel Oil, Anthyllis Vulneraria Extract, Cetyl Alcohol, Euphorbia Cerifera (Candelilla) Wax, Mangifera Indica (Mango) Seed Butter, Fragrance (Parfum), Linalool, Benzyl Benzoate, Farnesol, Limonene, Geraniol, Eugenol, Benzyl Salicylate, Benzyl Alcohol, Citronellol, Beeswax (Cera Alba), Hippophae Rhamnoides Fruit Oil, Mica, Maltodextrin, Silica, Lecithin, Carmine (CI 75470), Titanium Dioxide (CI 77891), Iron Oxides (CI 77499). *from natural essential oils
04 goji
Ricinus Communis (Castor) Seed Oil, Lanolin, Hydrogenated Castor Oil, Prunus Armeniaca (Apricot) Kernel Oil, Anthyllis Vulneraria Extract, Cetyl Alcohol, Euphorbia Cerifera (Candelilla) Wax, Mangifera Indica (Mango) Seed Butter, Fragrance (Parfum), Linalool, Benzyl Benzoate, Farnesol, Limonene, Geraniol, Eugenol, Benzyl Salicylate, Benzyl Alcohol, Citronellol, Beeswax (Cera Alba), Hippophae Rhamnoides Fruit Oil, Mica, Lecithin, Carmine (CI 75470), Iron Oxides (CI 77491). *from natural essential oils
05 cornelian
Ricinus Communis (Castor) Seed Oil, Lanolin, Mica, Anthyllis Vulneraria Extract, Prunus Armeniaca (Apricot) Kernel Oil, Cetyl Alcohol, Hydrogenated Castor Oil, Euphorbia Cerifera (Candelilla) Wax, Mangifera Indica (Mango) Seed Butter, Fragrance (Parfum), Linalool, Benzyl Benzoate, Farnesol, Limonene, Geraniol, Eugenol, Benzyl Salicylate, Benzyl Alcohol, Citronellol, Beeswax (Cera Alba), Hippophae Rhamnoides Fruit Oil, Silica, Lecithin, Maltodextrin, Alumina, Tin Oxide, Carmine (CI 75470), Iron Oxides (CI 77491, CI 77499), Titanium Dioxide (CI 77891). *from natural essential oils
06 tamarillo
Ricinus Communis (Castor) Seed Oil, Lanolin, Prunus Armeniaca (Apricot) Kernel Oil, Anthyllis Vulneraria Extract, Cetyl Alcohol, Hydrogenated Castor Oil, Euphorbia Cerifera (Candelilla) Wax, Mangifera Indica (Mango) Seed Butter, Fragrance (Parfum), Linalool, Benzyl Benzoate, Farnesol, Limonene, Geraniol, Eugenol, Benzyl Salicylate, Benzyl Alcohol, Citronellol, Beeswax (Cera Alba), Hippophae Rhamnoides Fruit Oil, Mica, Calcium Aluminum Borosilicate, Silica, Lecithin, Tin Oxide, Carmine (CI 75470), Iron Oxides (CI 77491), Titanium Dioxide (CI 77891). *from natural essential oils